You see it everywhere. It can be good and bad at times, sometimes it stops you in your tracks.
Here at Art Toys PH, we believe in creating points of connection between artists and art. Relationships and experiences develop through creative choices. The right environment can enable a kid to absorb so much. As you grow, you will notice all kinds of distractions, but if you have cultivated your creative side, you will never lose that comfort. Even in the toughest of circumstances, colours, textures, mark-making, and molding shapes are essential for bringing your senses to life and helping you focus.
Art is everywhere, and we must continue to cultivate creativity in our communities to keep them alive. Whether you are an aspiring artist, art student or a parent wishing to provide your child with a beautiful, creative aspect to learning, joining an art workshop may be a great way to ensure you get off to a good start.

Check out the following workshop this month of august!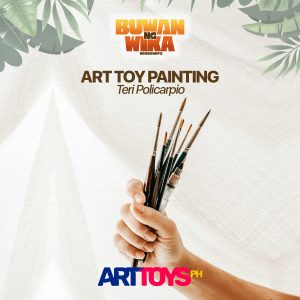 Registration Fee: 2,500php
Why learn Toy Hand Painting?
 An artist's creativity is trained through painting by experimenting with color combinations and shades. Painting promotes creative growth, builds memory, problem-solving and motor skills, provides stress relief, and boosts self-esteem and emotional intelligence. 
Learning to manipulate a paintbrush to create different paint strokes or using carving tools to create a sculpture provides a physical, tactile experience.  It broadens your understanding of how materials can be used it also improves hand-eye coordination as well as motor skills. Painting also provides stress relief, boosts self-esteem and emotional intelligence.  
Unlike mass produced toys, hand painted toys can't easily be replicated. Each creation is truly one of a kind.  
Learning this one of the category takes time, effort, motivation and inspiration to other artists just to make an aesthetic paintings. The objective is presenting to the viewers the message of a subject and interpret what they think about the the subject.
Event Date: August 29,2021
Time: 10:00AM-4:00PM
Introduction to Materials
– various types of paints and their common uses and application
– recommended types of paints for hand painting
– using paint additives
Painting Preparations
– practices prior to painting
– primer application
– tips and tricks
Tools
– recommended tools for hand painting
– brush types
– types of palettes
Application
– demonstration
– painting activity
Protecting your Figure
– top coating
– best practices
– tips
KIT INCLUSIONS:
Brushes
Paint set (12 colors)
Totoro Figure
-Resin
-4 inches
* Participants must have stable internet connection.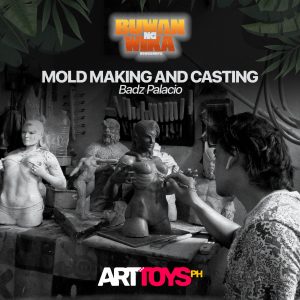 Registration Fee: 3,800php
Why learn Mold Making and Casting?
In sculpture, mold making is a process of creating the cavity/form that carries a negative or reverse impression of an original model to create a duplicate. It can be made out of a rigid material, such as plaster or plastic resin, or a flexible material as rubber, etc.
Mold making allows you to select the appropriate materials that you need for your sculptures. It can also make the proportions of your sculptures accurate or limit the errors. Since you know how to create a mold for your sculptures, it saves you from the costs of hiring mold makers for your sculpting projects. Another benefits is that you can carefully and conveniently examine, redress, and improve the details of your sculptures. And lastly, it allows you to speed up your progress while maintaining the quality of your works.

Event Date: August 28,2021
Time: 10:00AM-4:00PM
Introduction to Materials
1) Discussion of materials its uses, properties and safety uses
a) Silicone RTV 585 and Catalyst
b) Plaster of paris
c) Resin and Hardener
Application
2) Mold Making and casting
a) Silicone Mold
b) Plaste of Paris Mold
c) Casting of Resin in Silicone
d) Casting Plaster of paris on silicone
Silicine RTV 585 with catalyst
Plaster of Paris
Resin
Hardener
Brush
Calcimine
Mask
Gloves
Mixing cup
Kit Inclusions:
Silicone Mold, Plaster of Paris Mold,
Resin, Hardener, Brush, Mask, Gloves, Mixing Cup
* Participants must have stable internet connection.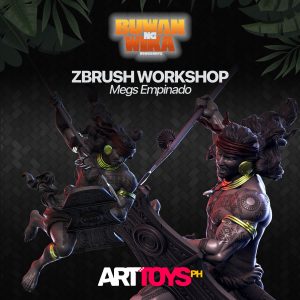 Registration Fee: 1,500php
If you aim to establish a career as a computer graphic designer or a 3D sculptor in the industry of visual development and video games, Z Brush is the right software for you.

Why is it significant to learn it? Digitally, creating a 3D sculpture is an artist's convenience. All materials/tools can be used at a digital level compare to a traditional way of producing sculpture. 3D artists may not be limited to create characters using Z Brush and making manipulation into digital clay just like the traditional way of sculpture. In Z Brush, it can only take your time and effort in front of the computer and without producing the physical materials in creating sculptures, everything is digitally produced on this software. Aside from human body proportion, Z Brush can mold everything else like animals and objects. And lastly it allows you to speed up your works, to explore and have freedom to get creative.

Event Date: August 20-21,2021
Time: 1:00PM- 8:00PM

Day 1
Introduction to Materials

a) Why is ZBrush industry standard?
b) Quick Start -Workshop Summary

a) Zbrush Interface
b) Custom Interface
c) Undo History
d) Polygroups
e) Dynamesh

Application
a) HD subdivisions
b) Hotkeys
c) Folders
d) Gizmos
e) Transpose /posing
f) Alphas
g) Noise maker
h) Custom brushes

Part 2
a) Extracttor Brush
b) Zmodeler
c) Zremesher
d) Nanomesh

Part 3
a) Polypaint
b) Layers and Polypaint
c) Polypaint from Thickness
d) Adjust Polypoint

Part 4
a) Uv master
b) Morph

Day 2

Part 5
a) Photo Reference
b) Booleans
c) Materials
d) Movies and Turntable

Part 6
a) Rendering

Part 7
a) Clean ups/Repair for 3d Printing
b) Basic 3d Printing

* Must have Tablet/Pentab
* Participants Must have stable internet connection.

Inclusion:
ZBrush App


* Participants must have stable internet connection.
INTERESTED?
SEND US A MESSAGE!